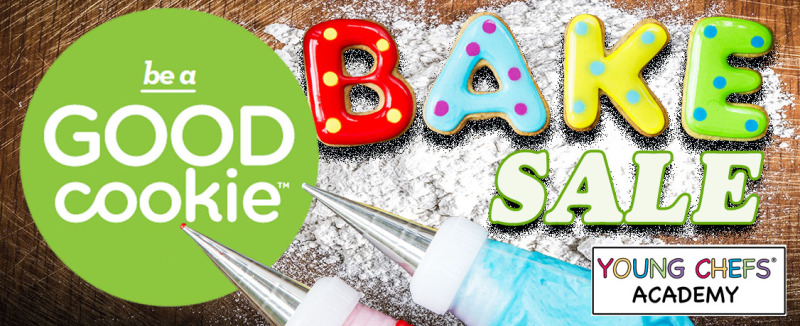 YOUNG CHEFS ACADEMY HAS PARTNERED WITH COOKIES FOR KIDS' CANCER!

Did you know that out of the $4.6 billion received through The National Cancer Institute's (NCI) federal budget, less than 3% is allocated to all 12 major groups of pediatric cancers combined?

The Young Chefs Academy "Be A Good Cookie" Bake Sale is a great opportunity for you to take part in helping to fight pediatric cancer. All proceeds go to support COOKIES FOR KIDS' CANCER.


This May, from the 1st to the 31st, every dollar raised for childhood cancer research will be DOUBLED, up to $100,000!

Attend our bake sale, donate goodies or simply give to this worthy cause! Visit our Bake Sale page to find out more about how you can "Be A Good Cookie!"


Join our efforts by supporting your local Young Chefs Academy Bake Sale! View locations, dates and times below! Select the location for contact information or the link to take you directly to the bake sale page!




Click to visit Rogers's fundraising page!
Saturday
June 3, 2017
1:00 - 3:00 pm
YCA of Rogers
FRESNO, CA

Click to visit Fresno's fundraising page!
Saturday
June 3, 2017
10:00 - 11:00 am
YCA of Fresno
SEMINOLE, FL

Click to visit Seminole's fundraising page!
Saturday
May 27, 2017
11:00 - 2:00 pm
YCA of Seminole
ATLANTA-MIDTOWN, GA

Click to visit Atlanta-Midtown's fundraising page!
Sunday
May 28, 2017
1:00 - 3:00 pm
YCA of Atlanta-Midtown
SANDY SPRINGS, GA

Click to visit Sandy Springs's fundraising page!
Sunday
May 21, 2017
12:00 - 3:00 pm
YCA of Sandy Springs
MARIETTA, GA

Click to visit Marietta's fundraising page!
Sunday
May 25, 2017
4:00 - 5:30 pm
YCA of Marietta
COEUR D'ALENE, ID

Click to visit Coeur d'Alene's fundraising page!
Saturday
May 27, 2017
12:00 - 4:00 pm
YCA of Coeur d'Alene
LENEXA, KS

Click to visit Lenexa's fundraising page!
[DAY]
TBD
TBD
TBD
BATON ROUGE, LA

Click to visit Baton Rouge's fundraising page!
Saturday
May 20, 2017
10:00 - 1:00 pm
YCA of Baton Rouge
MARLBORO, NJ


Click to visit Marlboro's fundraising page!
Saturday
May 13, 2017
11:00 - 4:00 pm
YCA of Marlboro
FOREST HILLS, NY

Click to visit Forest Hills' fundraising page!
Sunday
June 11, 2017
11:00 - 6:00 pm
Forest Hills Festival of the Arts, On Austin Street between 69th Road and 72nd Road
NEW CITY, NY

Click to visit New City's fundraising page!
Monday
May 29, 2017
9:30 - 2:00 pm
YCA of New City
GAHANNA, OH

Click to visit Gahanna's fundraising page!
Friday
May 12, 2017
6:30 - 8:30 pm
YCA of Gahanna
MENTOR, OH

Click to visit Mentor's fundraising page!
Saturday
May 13, 2017
1:00 - 4:00 pm
Great Lakes Mall
SOLON, OH

Click to visit Solon's fundraising page!
Saturday
May 13, 2017
1:00 - 4:00 pm
Miles Farmer's Market
STRONGSVILLE, OH


Click to visit Strongsville's fundraising page!
Saturday
May 13, 2017
2:30 - 4:00 pm
YCA of Strongsville
FORT WORTH, TX

Click to visit Fort Worth's fundraising page!
Monday
May 29, 2017
2:00 - 4:00 pm
YCA of Fort Worth
FRISCO, TX


Click to visit Frisco's fundraising page!
Sunday
May 21, 2071
4:30 - 6:00 pm
SAN ANTONIO, TX

Click to visit San Antonio's fundraising page!
Saturday
May 27, 2017
11:30 - 4:00 pm
YCA of San Antonio


RICHMOND, VA

Click to visit Richmond's fundraising page!
Saturday
May 27, 2017
10:30 - 12:00 pm
YCA of Richmond