---
Join Kids and Teens across the globe on September 13th and take over your kitchen!


For the 8th year in a row, Young Chefs® Academy has been empowering Young Chefs across the nation to take over their kitchens! This year, we hope to see even more kids, teens and families cooking together in their kitchen on September 13th and beyond!

Beginning Thursday, September 13th, we will be posting a new recipe each month (2nd Friday of the month) along with a skill focus, tips and tricks! We task every young chef across the globe to join us for the months that follow to take over their kitchen and master the skills along the way! Each month will build upon each other as we work towards setting them free and let the creative juices flow as we near National Kids Take Over The Kitchen Day 2019!!

Be sure to stay tuned as we have some exciting things planned beginning with this year's Kids Take Over The Kitchen Day and building into even more exciting plans throughout the next 12 months!

To get started, scroll down to this month's skill where you will find practice recipes, tips, tricks and more!

SHARE YOUR CULINARY CREATION FOR #KIDSTAKEOVERTHEKITCHENDAY!

Whether you use the recipes provided or strike out on your own, be sure to share your culinary creations on our Facebook page or Instagram using the hashtag #KidsTakeOverTheKitchenDay and show your support for bringing families back to the kitchen!



But remember...safety first! If you're fairly new and have not had the culinary and safety instruction necessary, be sure to have an adult present to be your "Sous Chef" for the day!

Are you ready to take over your kitchen and create lasting memories to last a lifetime?
---
About National Kids Take Over the Kitchen Day™
Why is this so important to us?
Decline over the years of families sharing meals together which can increase the likelihood of teen drug/alcohol abuse, poor grades and more.
An unhealthy relationship with food due to factors such as portion control and high fat/calorie content from pre-packaged or fast foods leading to more serious issues such as childhood obesity and health related issues.
What can Young Chefs Academy do to make a difference?
As THE premiere cooking school for kids, Young Chefs Academy provides the perfect platform to bring families back to the kitchen. By harnessing the impact & opportunities available to us, we will empower kids and teens across the globe to play a more active role in the planning, preparation and cooking process.
Our Vision:
Young Chefs ® Academy's mission is to teach the joy and value of cooking to children and teens across the globe. The vision behind the mission of the "Kids Take Over the Kitchen" campaign is to see kids and teens take their newfound cooking skills as a ticket to independence and self sufficiency as they grow into adults. By empowering kids with these skills, they can:
Take part in increasing the likelihood of families sharing more meals together;
Learn to use fresh, sustainable ingredients while expanding their food palate;
Be among those who want to play an integral role in decreasing childhood obesity and other health-related issues by choosing more home-cooked meals as opposed to high calorie/high fat menus found at fast food establishments;
Use these skills to become more independent, self sufficient, and confident human beings;
Develop skills that will last a lifetime whether it's for personal reasons or to pursue a professional trade.
The Results:
Developing a stronger family unit while empowering kids to break the cycle of today's fast food society,
Promote a healthier relationship with food,
Bring in a larger variety of natural ingredients to aid in expanding food palates and healthier menu alternatives through ownership.
Encourages individuality, responsibility, teamwork and self-confidence
Brings families together by creating the opportunity for families to grow closer, and as studies show, thereby increasing the probability of better grades, responsible social choices, avoidance of drug and alcohol abuse
Decrease in childhood obesity and other health related issues by encouraging home-cooked meals as opposed to regular diet of high calorie/high fat found at fast food establishments.

Kids and teens CAN make a difference!
---
This Month's Skill Focus Is....
Measuring Common Ingredients!
There are a lot of factors involved with measuring, however, we will focus on fine-tuning the basics.
For the recipes this month, we will practice measuring both wet and dry ingredients to produce some yummy recipes ~ Honey Almond Butter Cookies & Chocolate Cherry Pancakes with Cherry Syrup!
Be sure to check out the tips below and let us know how they turn out! Share your creations with us on Instagram (@youngchefsacademy) and Facebook !
Can you guess what our next skill will be next month? New recipes, tips and tricks will be posted every 2nd Friday of the month, along with some special treats to continue celebrating National Kids Take Over The Kitchen Day...All Year Long!
Before you get started...
Read through your recipe at least once before getting started!
Mise en Place ~ Be sure to have everything you need (ingredients, equipment, prep items necessary,...)
Don't be afraid to change a few things to make it your own! Keep in mind that this is a lot easier to do when cooking while baking is more precise.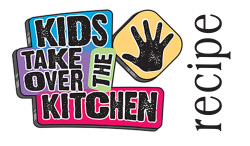 ---
Sneak Peek at just a few of the things our Young Chefs Academy students focused on last month during "Culinary Bootcamp!"
Mise en Place like a professional chef!
Creating a stock from scratch
Balancing flavors to craft delicious results
Cooking procedures for making a roux
Braising, sauteeing, carmelizing, glazing and more!
Check out one o the recipes made after learning how to create the perfect roux:
Simply Delicious!!

Measuring Tip....
Liquid ingredients need to be measured at eye level. Using the liquid measuring cup, pour the liquid into the cup. Then bend over so you are on the same level with the measuring marks. The liquid should be right at the mark, not above or below.

For dry ingredients, use a straight edge (like the back of a butter knife) to level off even with the top edge of the measuring spoon.


Measuring Trick....
When measuring sticky ingredients like honey or syrup, spray your measuring cup or spoon with non-stick cooking spray first.

Measuring Tip #2...
When substituting Kosher salt for table salt, increase your measurement by ¼
For example: 1 tsp. table salt = 1 ¼ tsp. Kosher salt
---
Working with "younger chefs"
Need a little recipe inspiration for your younger chefs? Try some of the recipes from our "What's For Dinner" recipe box below to help get them more involved in the cooking process! There's lots of activities they can do to lend a hand, such as:
Help gather ingredients
Washing and drying fruits and veggies
Learning basic skills such as: how to crack an egg, measuring wet & dry ingredients, rolling/kneading dough, mixing/whisking/folding ingredients,...
Being involved in the planning process for the weekly meals
Visiting the local farmer's market and trying fresh, local ingredients
Learning kitchen safety practices
Once your youngest chefs have mastered some of the basics, begin introducing them to some more advance skills and practices (with adult supervision, of course!), such as:
Knife safety
Stovetop and oven safety
Using more advanced kitchen appliances
Playing a more active role in the planning of meal and preparation
From there, children can really start to tackle more advanced skills and techniques like those we'll be learning this month!