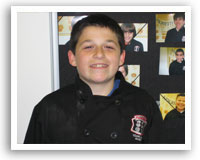 Are you serious about cooking? In our MasterChef® Program, we get serious about building & developing your culinary skills!
The MasterChef® Program is a unique opportunity for our Junior Chef & Senior Chef members who are interested in mastering the basic culinary skills and techniques needed to embark on a lifetime love of cooking. Members enrolled in the MasterChef® Program participate in weekly classes throughout the month, successfully pass monthly knowledge assessments and earn patches toward their main goal of earning an elite MasterChef® jacket and diploma. Participants will learn basics in: kitchen safety, proper food handling, food preparation, cooking and baking techniques, presentation, table setting and manners all organized by a monthly theme.

Prerequisite: Our exclusive MasterChef Program is available to our current Junior and Senior Chefs Club Members! Contact your local Young Chefs Academy to find out how you can start earning patches to become a MasterChef!

To ensure safety and enjoyment for each student, class sizes are limited based on space and availability.
Class offerings will vary by location.

For more information on how to become a Chefs Club Member, contact your local Young Chefs Academy.